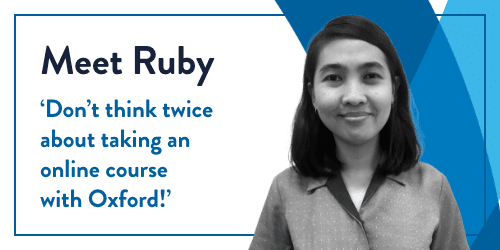 Are you considering studying one of our online public policy courses? 
Hear from one of our most recent course graduates from the Philippines, Ruby Jean Balanon, on how she made her time on the Evidence in Public Policy short course work alongside her career and how she has made an immediate impact in her organisation by using her learnings from the course.  
Tell us about your career aspirations and how this course has helped you progress towards your goals. 
I am relatively new in our organisation and it is my desire to contribute to the realisation of our organisation's vision, mission and goals. The Evidence in Public Policy course deepened my understanding and analysis of policies, considering not only the impacts from a personal perspective but taking into account information from the community and data gathered through research and systematic means.  Personally, it helped me make decisions more critically.
Why did you choo
se to study this course online?
It was a great opportunity to learn from the professors and programme facilitators of a renowned university, especially during one of the most challenging times in the whole world – the Coronavirus (COVID-19) pandemic.
It has been a time when online classes have become more familiar and preferred as the mode of learning because of the safety and security that online courses provide to prevent the spread of the virus.  Though it was personally challenging due to lack of personal or face-to-face interactions with professors and classmates or peers, studying online instilled in me the discipline and time management to ensure that I am on track in the tasks and project to be completed.
What was your
favourite
 module on the course and why? 
The module covering Theory of Change was my favourite because it made me appreciate project analysis more. Logframes, logic models, frameworks, and other related terms carried some sort of difficulty and complexity in understanding, but the module on Theory of Change made me grasp well the relationships of inputs, activities, outputs, intermediate outcomes, and final outcomes.  Indeed, a key to successful policy implementation is awareness and a deeper understanding of the details and information which make up or are considered the building blocks of a policy or project.
How will this course make a difference in your career? 
The Evidence in Public Policy Course has already made a difference in my career. I believe I became a better employee in our department and organisation because it widened my perspective in analysing policies in our organisation.  It made me more confident in sharing my viewpoints about the implementation of programmes and projects and made me think more holistically in analysing policies at our level.
What advice would you give to anyone considering studying an online course
with the University of Oxford
?
Don't think twice about taking an online course with Oxford University!  The modules are very challenging and you will learn a lot from your professors, learning Facilitators, and peers. The experience is unique and it is a great opportunity to personally and professionally grow and develop.