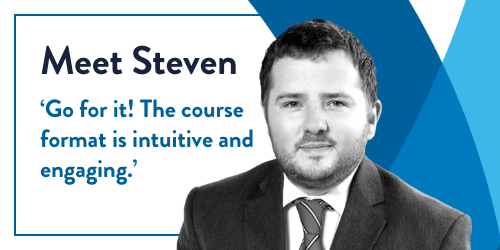 Considering studying one of our online public policy courses? 
Hear from one of our most recent course graduates from Ireland, public servant Steven Cull, on how he made his time on the Evidence in Public Policy short course work alongside his career and how you can achieve it too. 
Tell us about your career aspirations and how this course has helped you progress towards your goals. 
I work in a public service environment, where complex policy discussions are always ongoing. This course has helped to fill a gap in my knowledge, which can only be of benefit to me as my career progresses.
Why did you choo
se to study this course online?
I will probably never get to study in person at the Blavatnik School at the University of Oxford, so this course gave me the opportunity to benefit from the expertise of the faculty there in a way that would otherwise not have been possible.   
What was your
favourite
 module on the course and why? 
My favourite module of the course was about the practicalities of running impact evaluations, especially the ethical aspects. The module gave interesting examples and case studies and presented a nuanced perspective on turning theory into real impact without compromising ethical values.  
How will this course make a difference in your career? 
It's too early to assess what difference it will make in my career. What I can say at this point is that it has made me more effective in my current role. I am more confident dealing with the topics covered in the course. I am not afraid to ask, 'where is the evidence?' and when I receive it, I am better placed to analyse it and use it to inform decisions.  
What advice would you give to anyone considering studying an online course
with the University of Oxford and Pearson
?
Go for it! The course format is intuitive and engaging. The regular activities keep you on your toes and challenge you throughout. The course material is applicable to issues across the policy spectrum. The opportunity to interact with and learn from students from around the world is also very valuable.